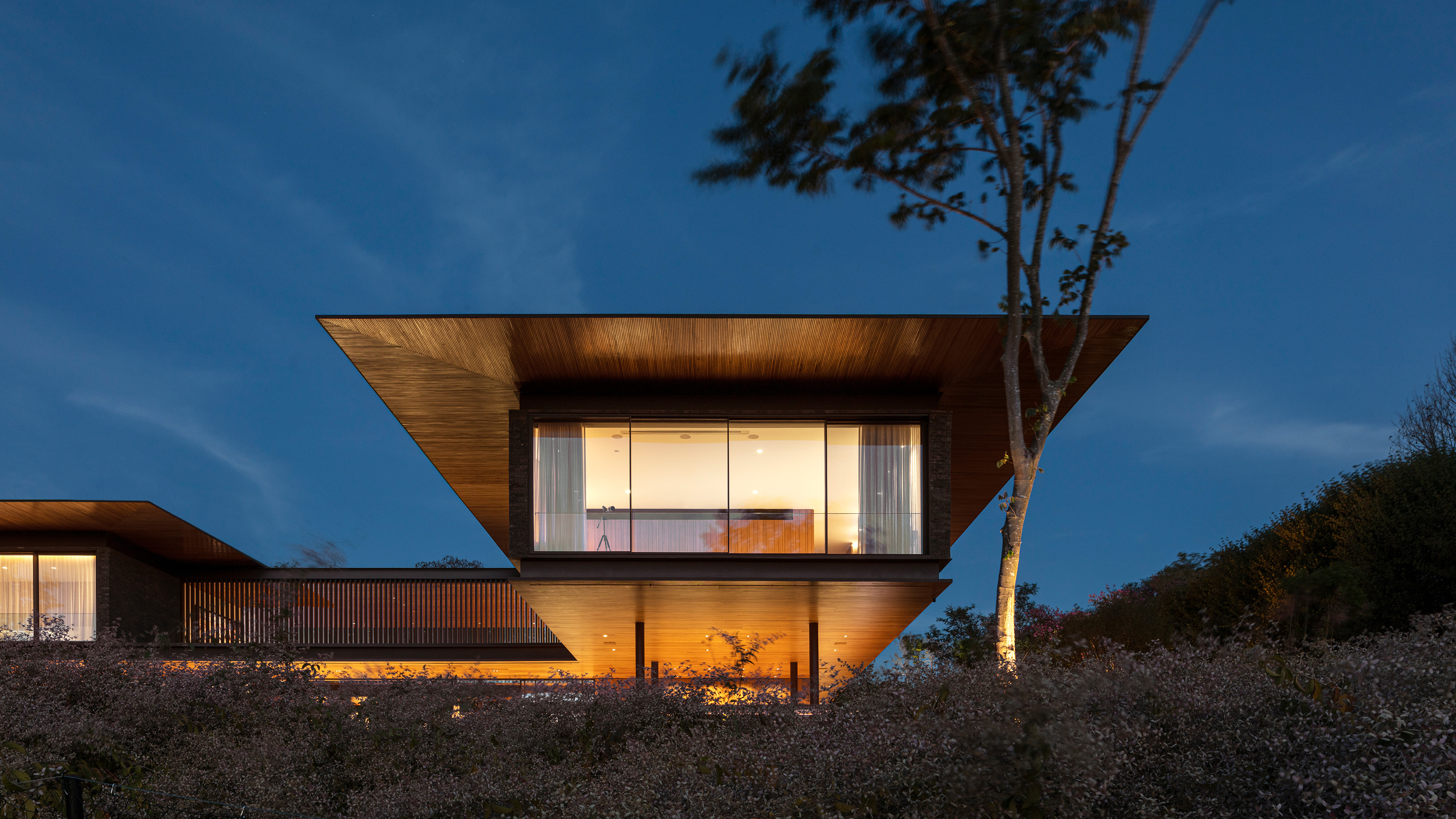 LR House
Porto Feliz, SP
Facts
Total Area

6234m²
Built Area

1341m²
Project
Architecture

Jacobsen Arquitetura
Team

Paulo Jacobsen, Bernardo Jacobsen, Edgar Murata, Marcelo Vessoni, Christian Rojas, Marcela Siniauskas, Marcela Guerreiro, Natalia Tieri, Paula Mieli, Lucas Vieira, Décio Araújo, Vicky Zamlung, Marcela Penteado, Jaime Cunha Jr., Veridiana Ruzzante
Interior design

Jacobsen Arquitetura
Lighting

Wall Lamps
Photography

Leonardo Finotti
The LR house was built on a sloping plot, surrounded by neighboring lots on both sides. The project sought to privilege the powerful visual range of the landscape that unfolds from the east face, opposite to the main access road. The terrain's accentuated topography conditioned the creation of a large entrance garden, distributed in descending levels, which allows the adjustment of the terrain levels.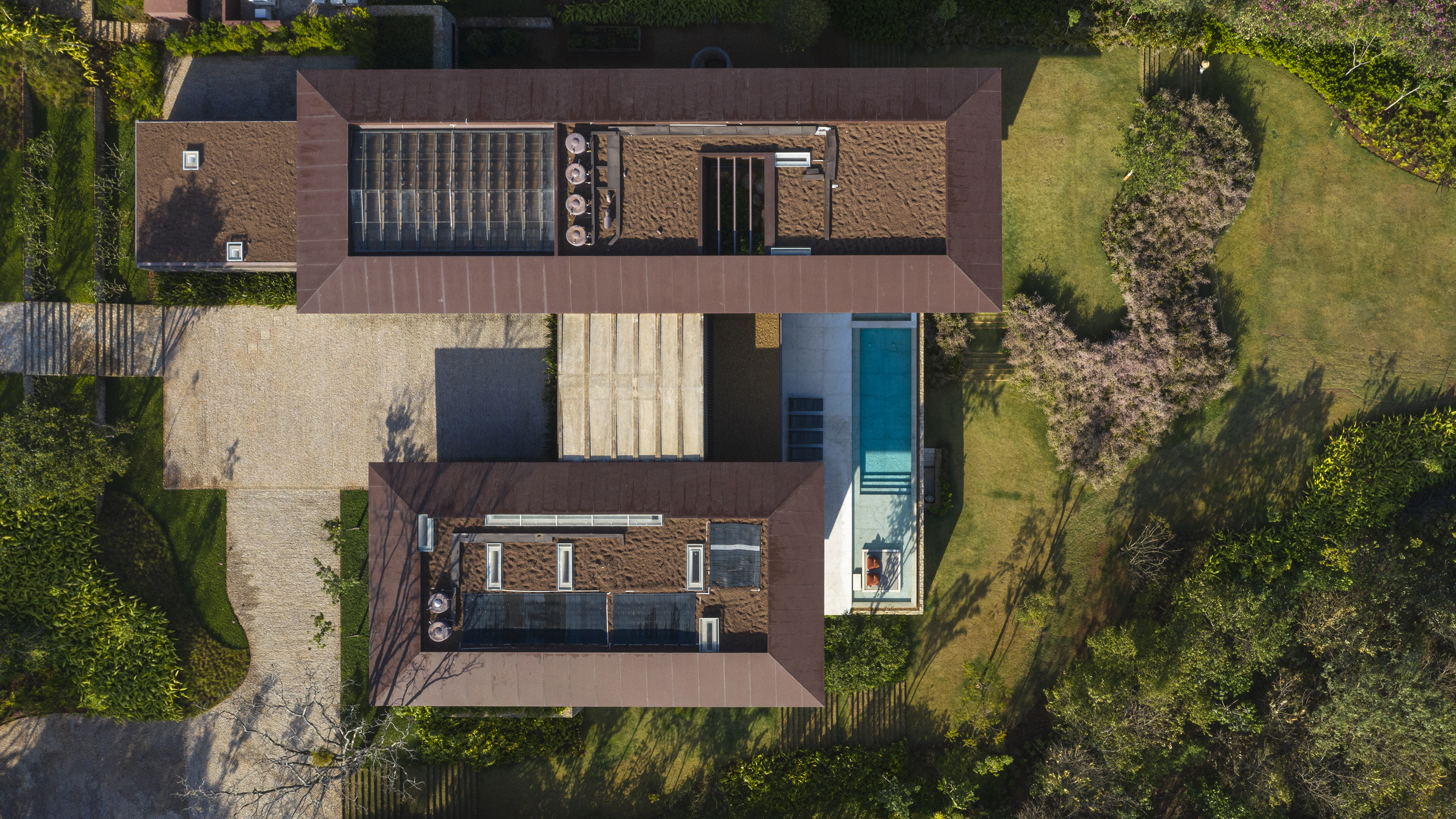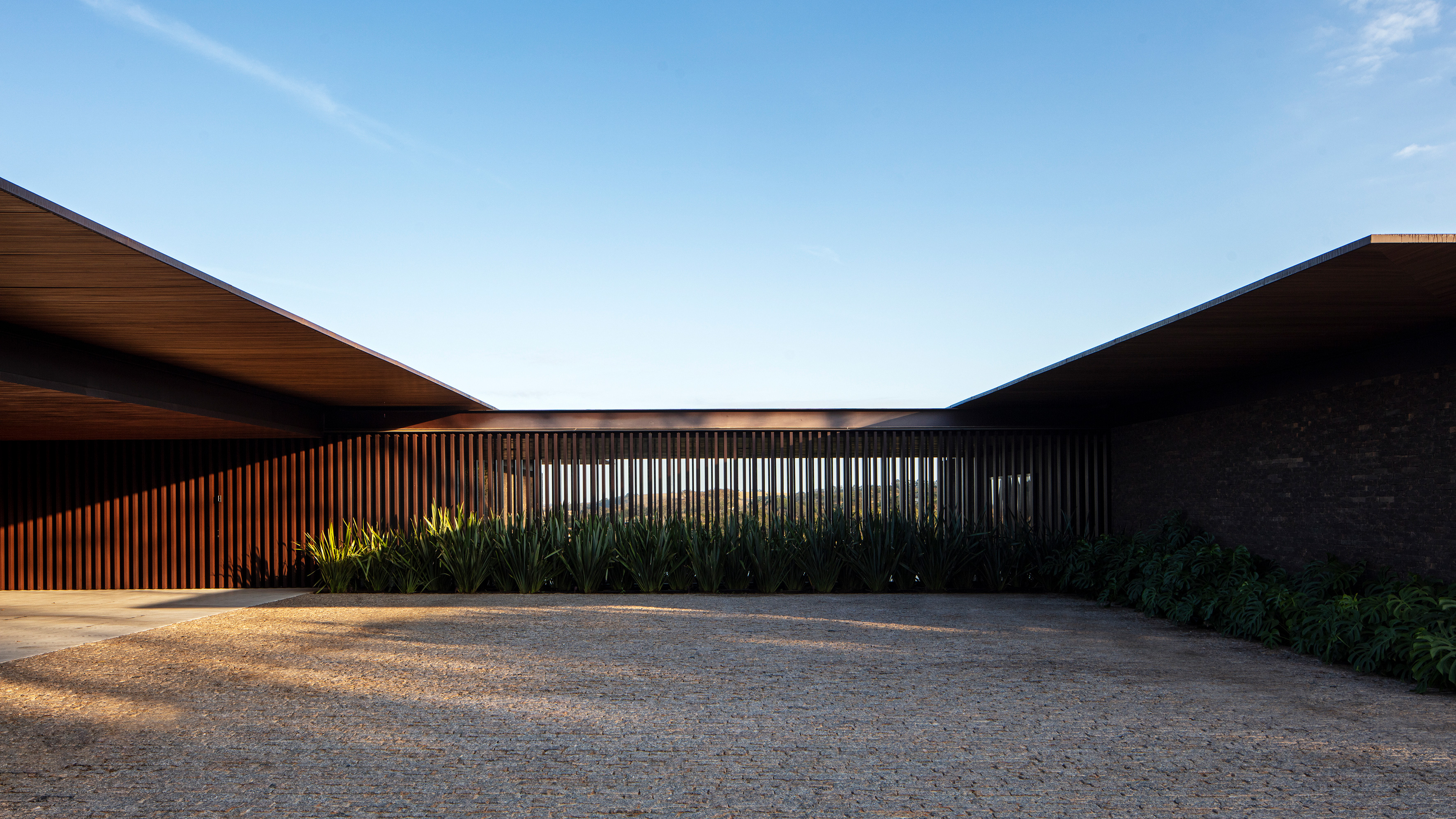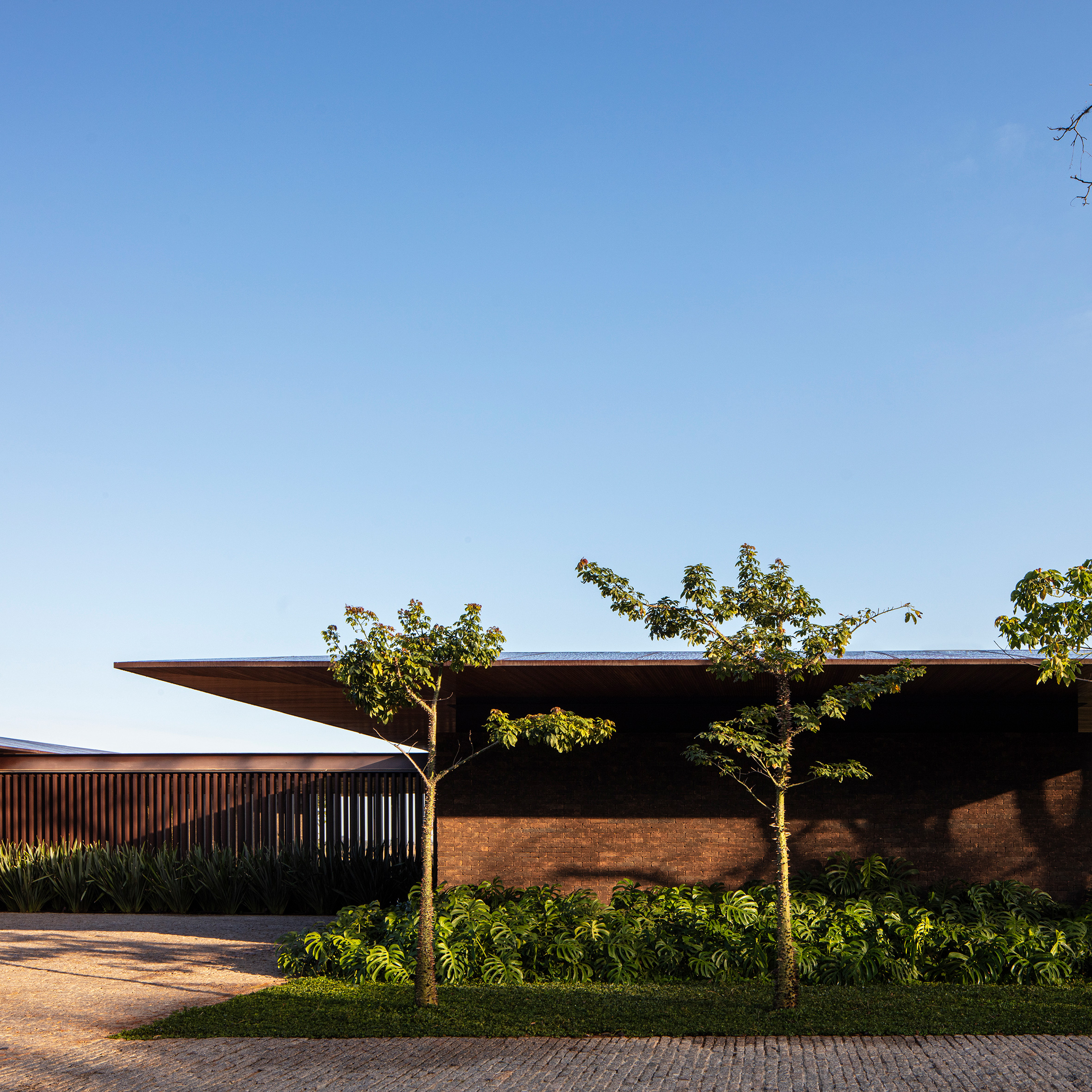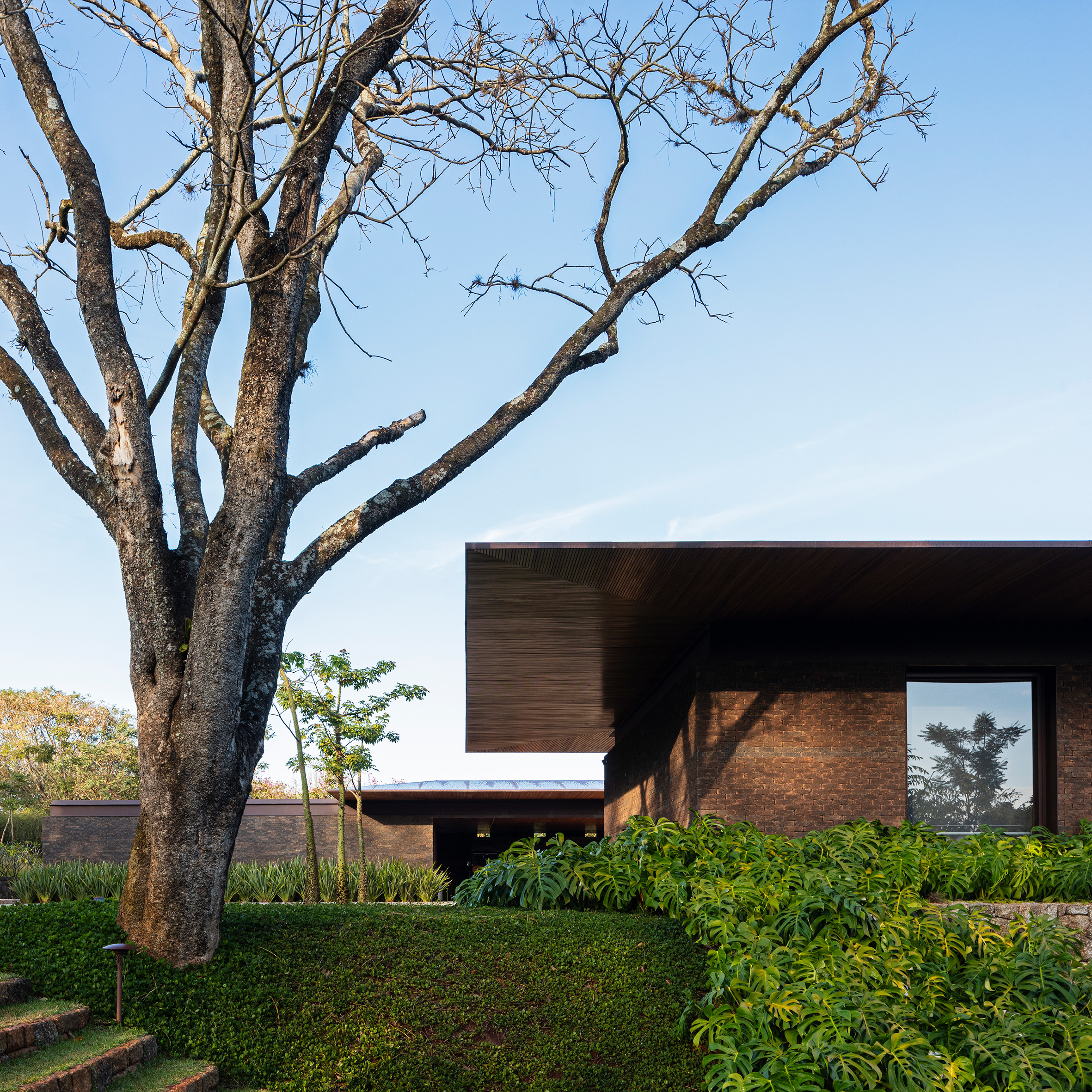 There are two options to access the entrance to the house: take a front staircase or the side ramp. Both paths lead to a flat patio, covered in stone, which includes the main access to the residence. At a lower level, a large leisure garden was created, where a magnificent swimming pool was located. The residence unfolds in a volume implanted in the center of the lot, between the two gardens. From the main access, one can see a one-story building. Looking from the back, emerges a building with two floors. The architecture intends to harmoniously integrate with the place of implantation, either by the adopted volume or by the choice of materials.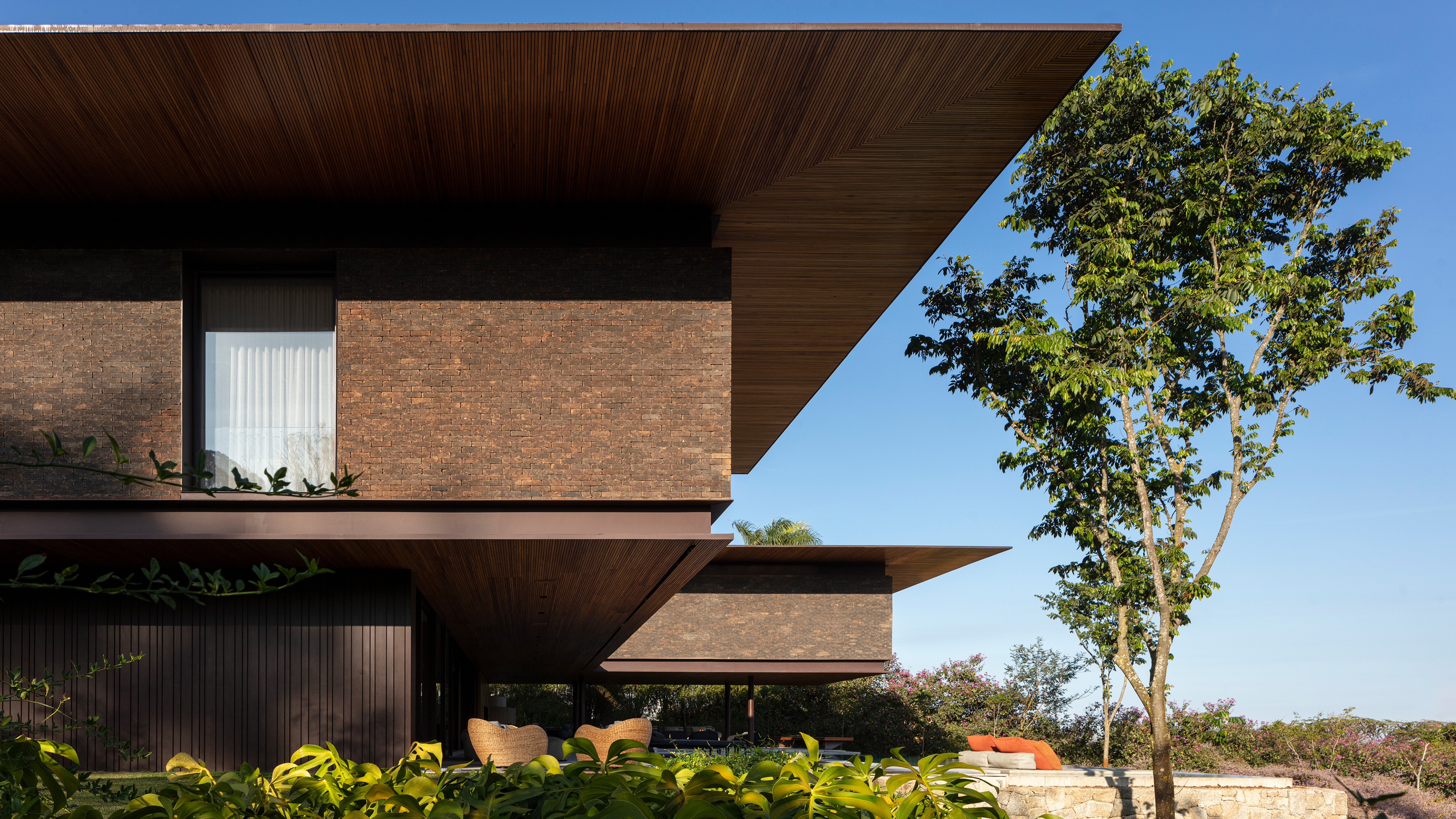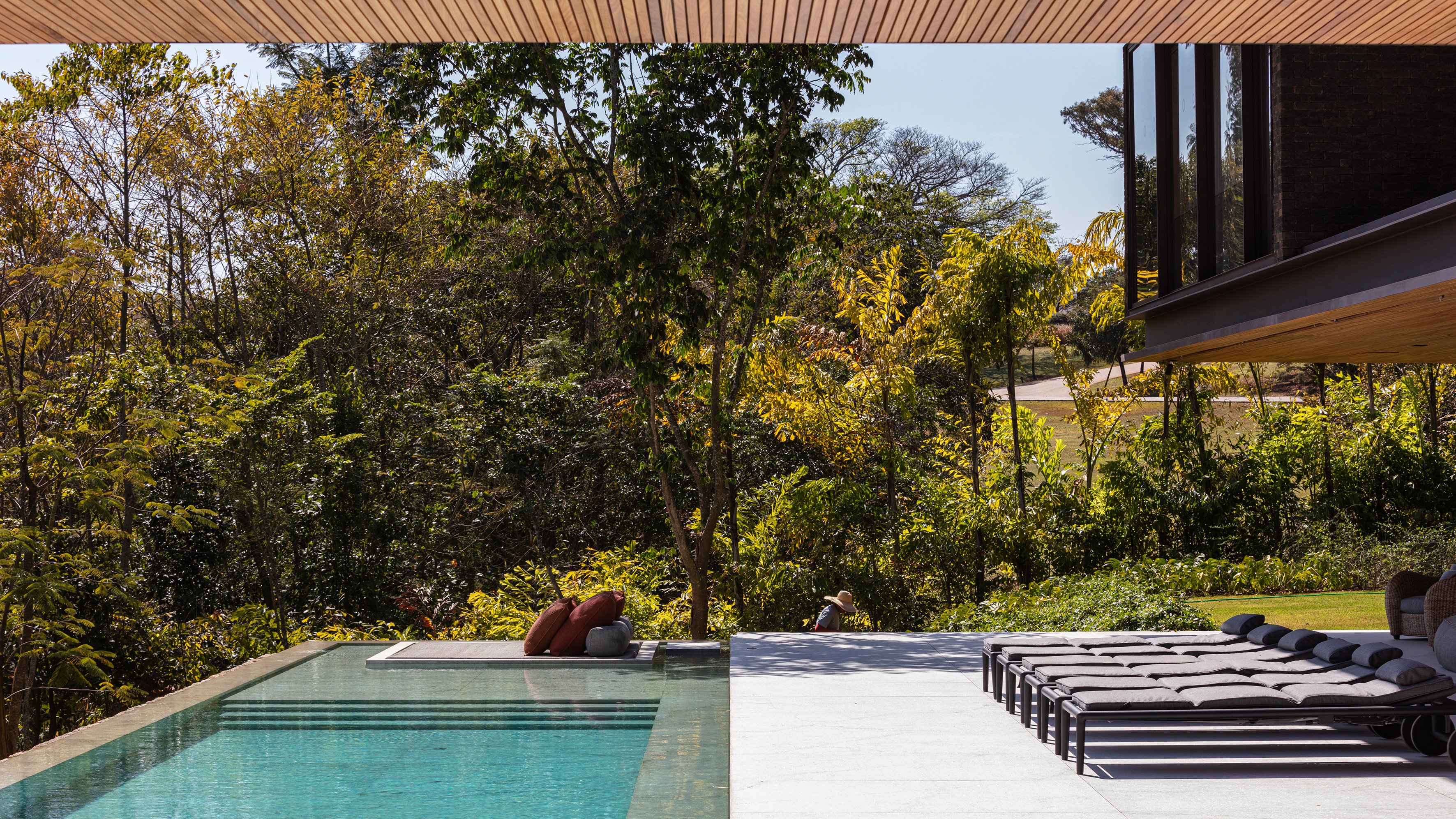 The project is structured around two rectangular blocks parallel to each other, joined by a connecting element. The main blocks are topped by two roofs composed of long and slender eaves, which seem to float above the dark brick and glass enclosures. We took special attention to the design of these elements, which surround the roof slabs as if they were frames of a painting. At the same time, the eaves also work as platbands.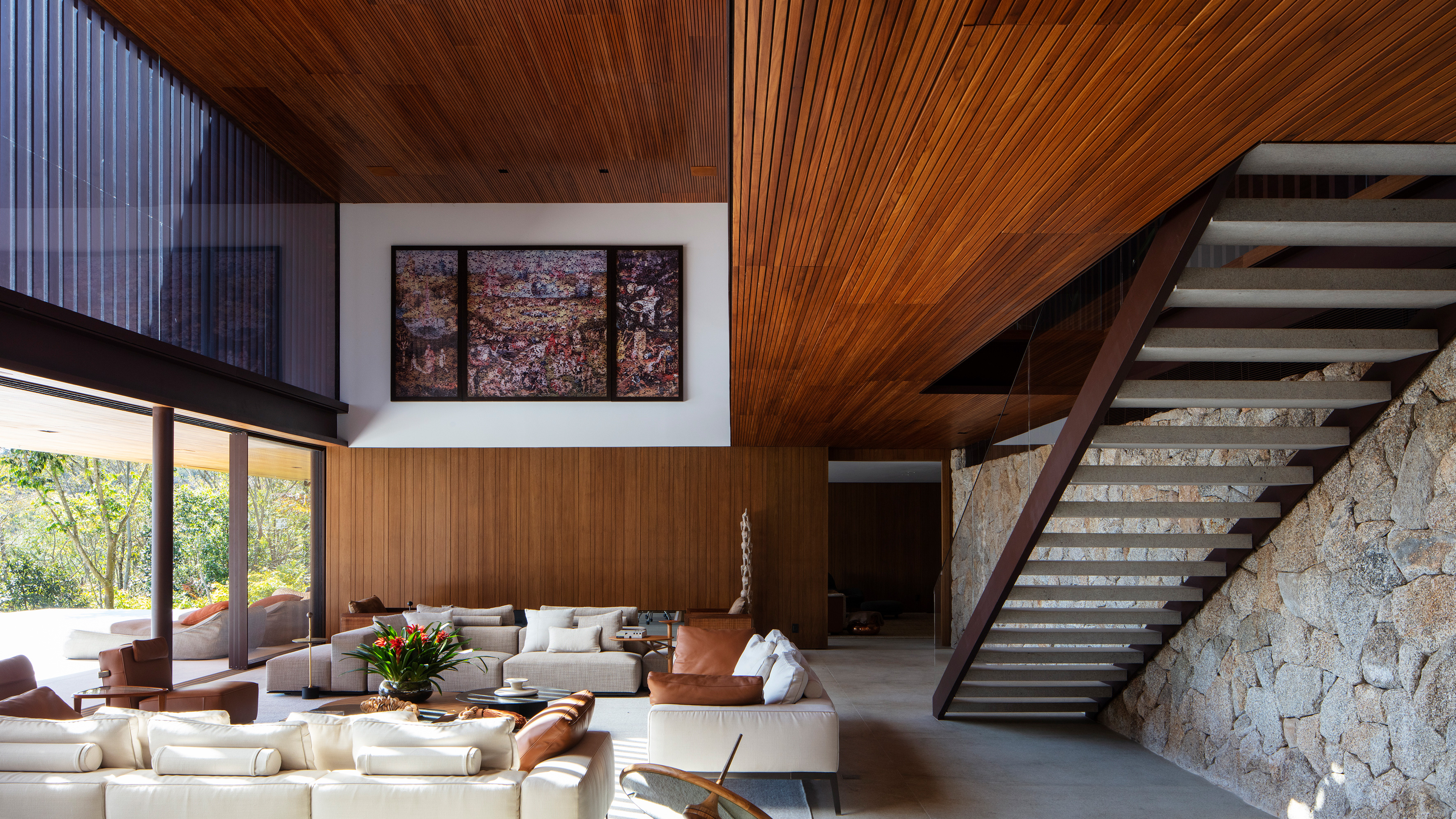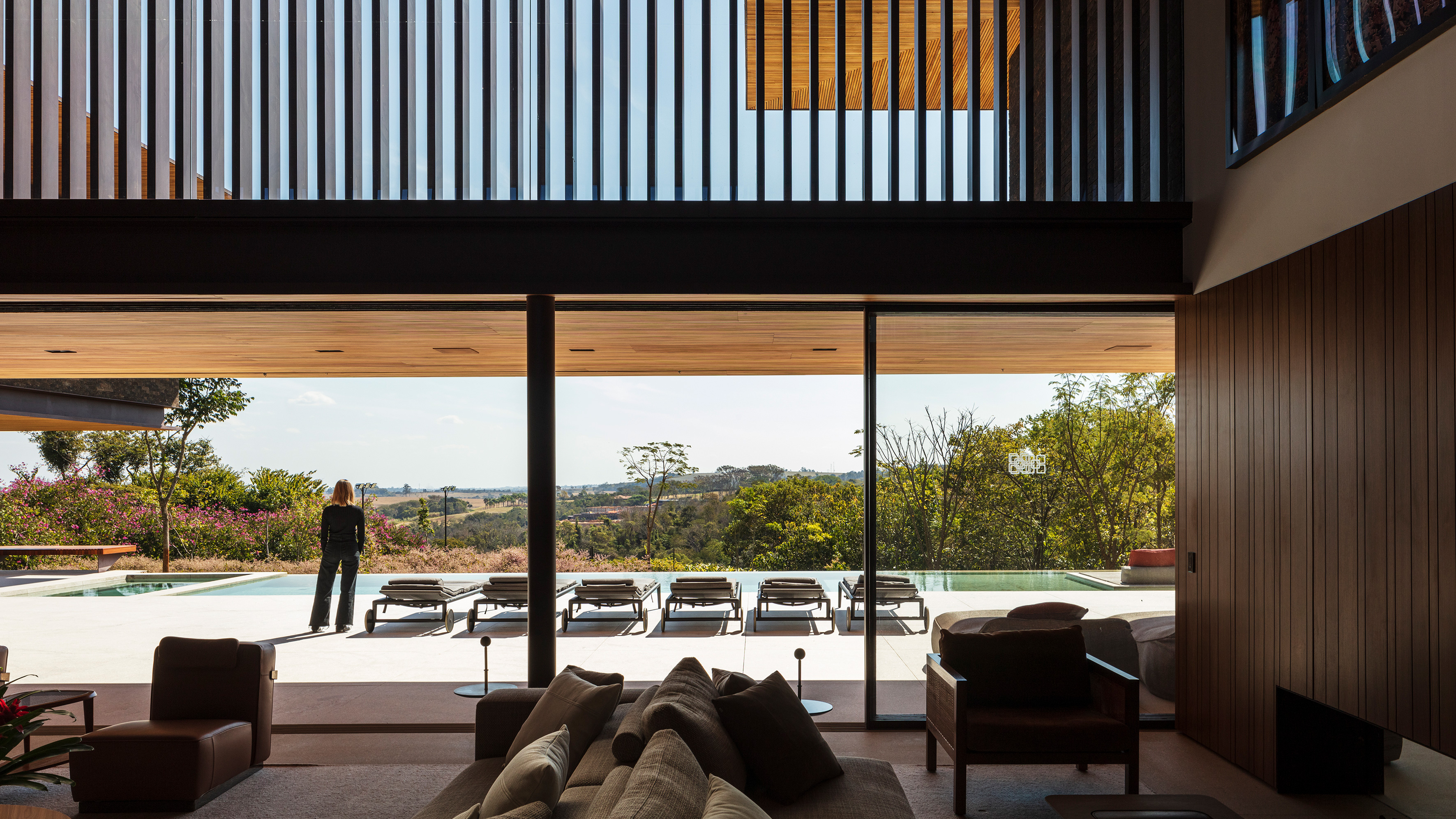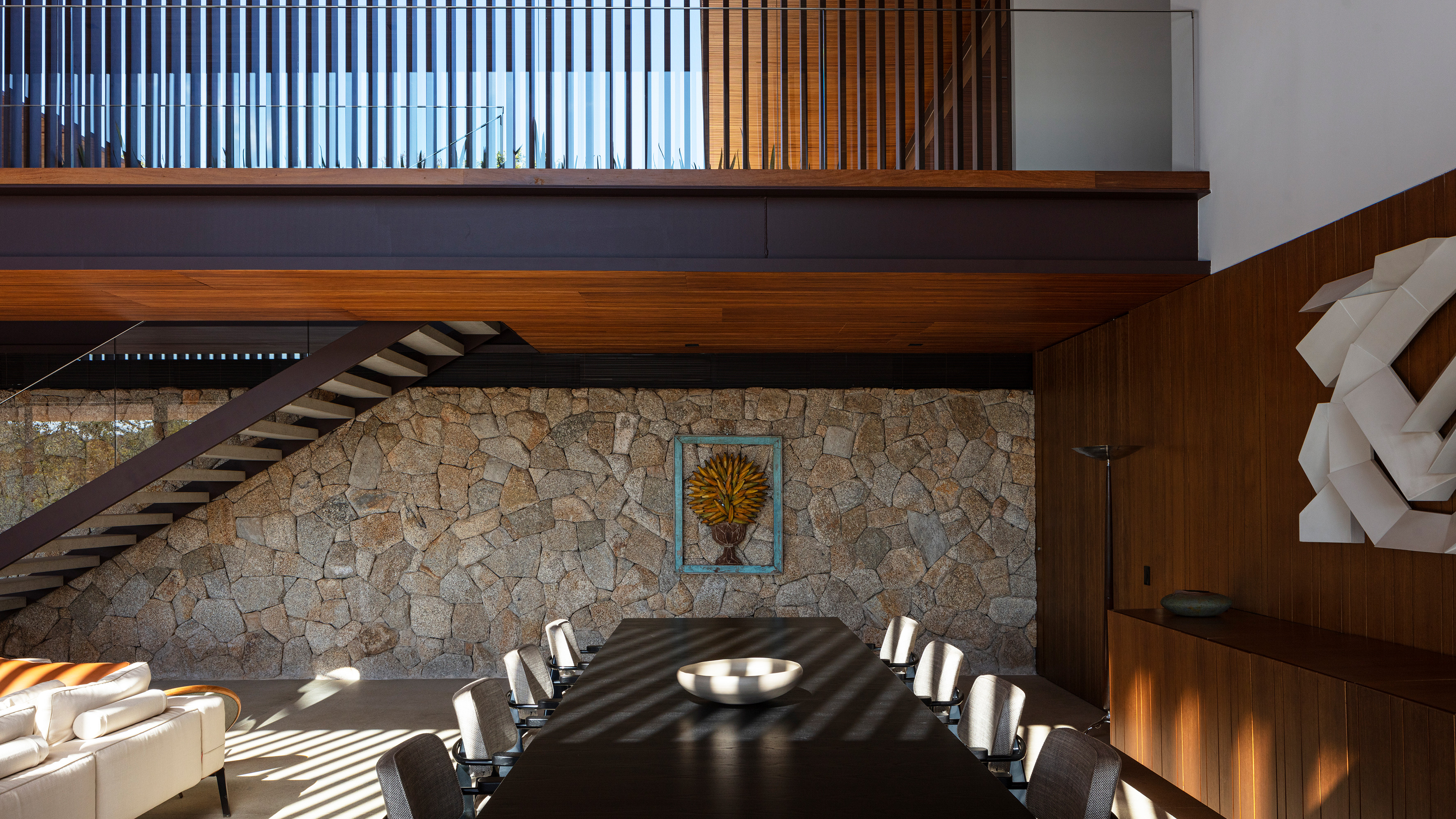 The smaller volume, closed by fixed wooden louvers, seeks to dematerialize itself in the landscape, allowing a visual connection with the gardens. The most extensive block, connected to the main entrance, incorporates the master suite, family room, laundry areas and car shelter. In turn, the less extensive volume accommodates the children's and guest suites. An internal wooden walkway, over living room with a double high, allows not only the connection between both buildings, but also the access to the common areas of the residence.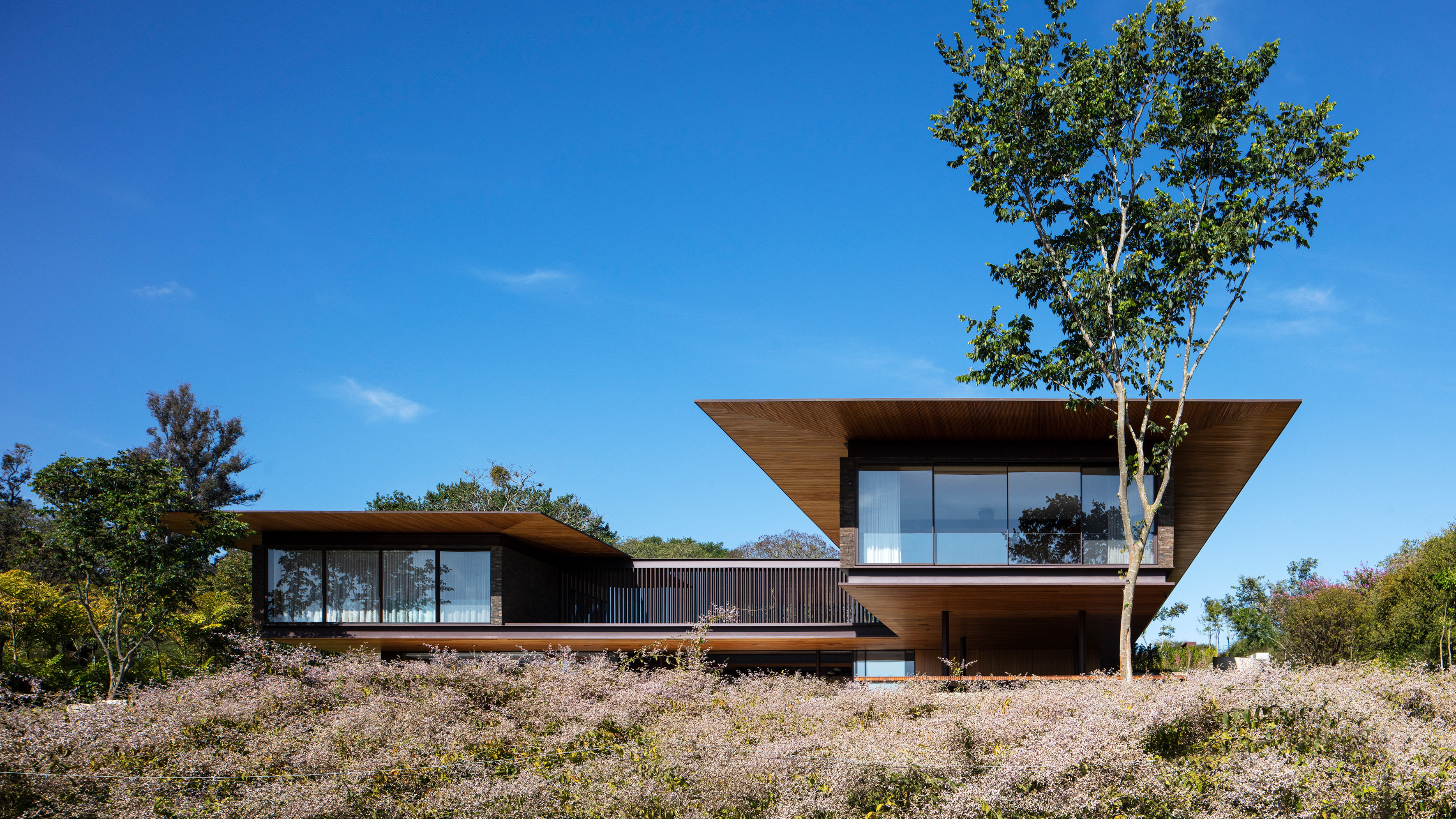 Downstairs, the residence's social programs were implemented, including living areas, a dinner room, a wine cellar, and a billiard room. Located at the level of the pool and the garden, these areas were visually integrated through the adoption of stilts in a metallic structure, in cut steel tone. The absence of pillars at the corners of the residence creates a powerful suspension effect.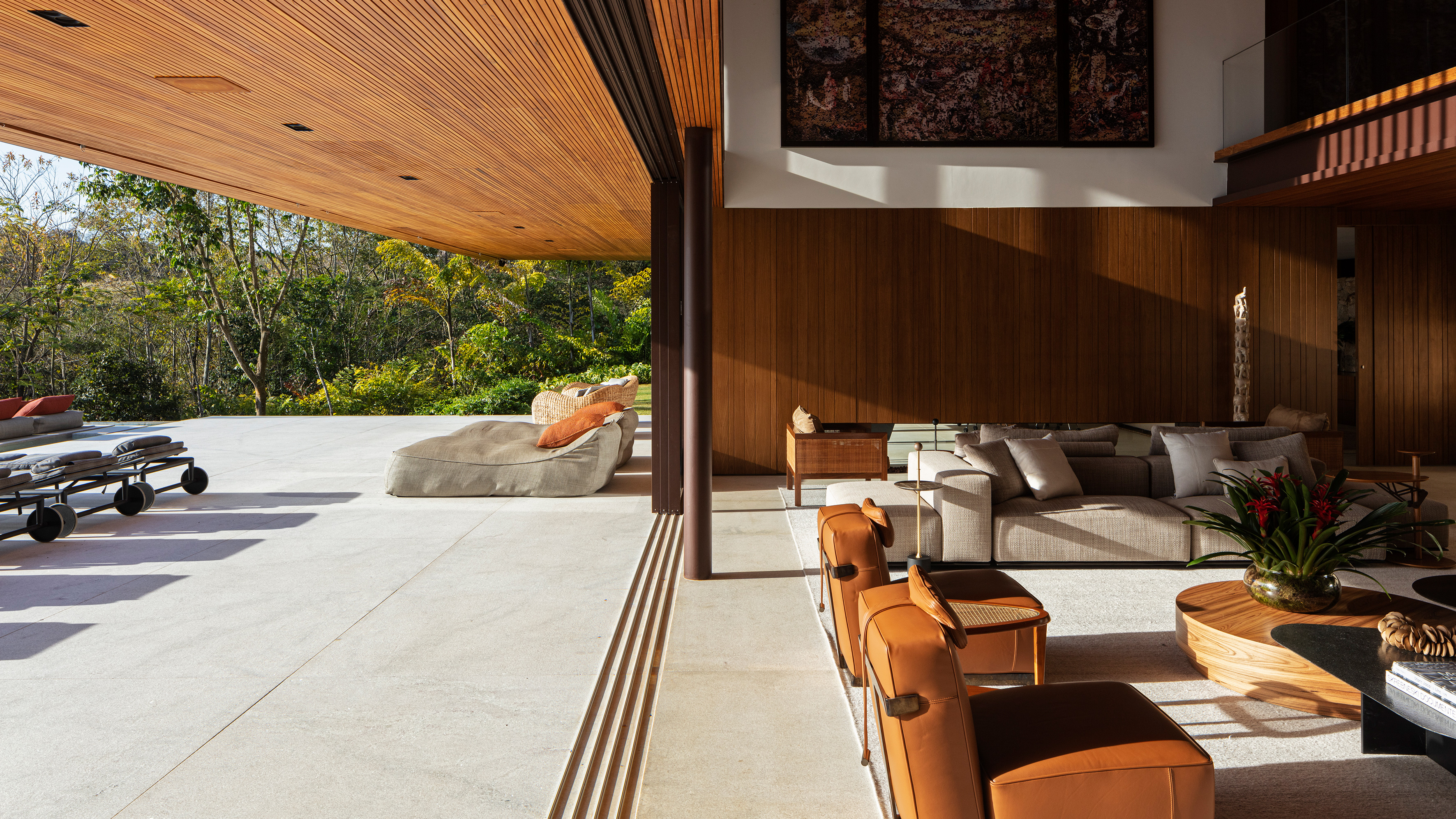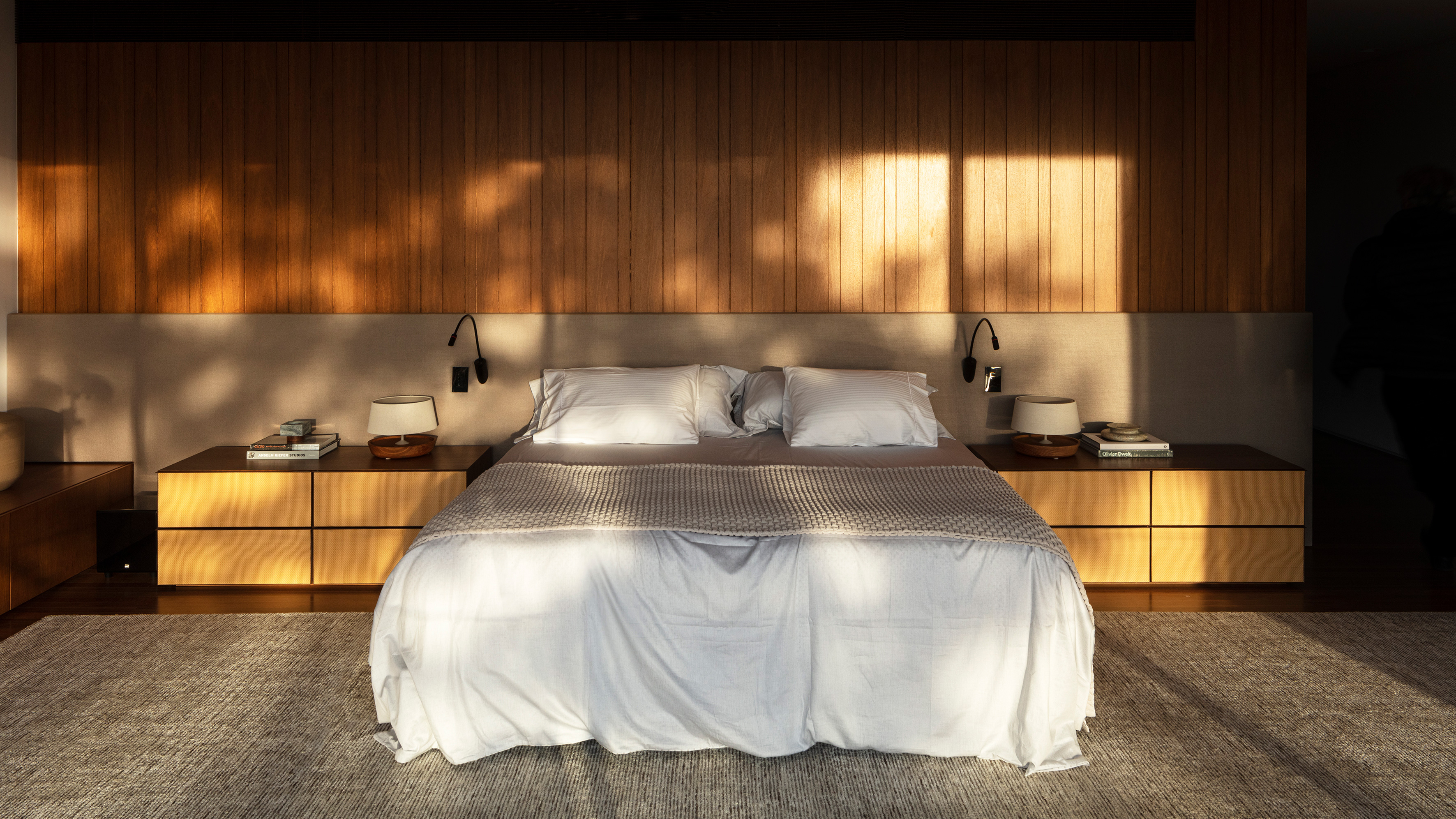 The lightness intended for the structure benefits both from the closures with glass panels, as well as from the total opening of the space in this floor. Inside, the linings and joinery covered in freijó wood create a feeling of coziness and sophistication. The pool in sawed granite contributes to the delimitation of the level, accentuating the horizontality of the landscape and reflecting the exuberant surrounding nature. Below the pool level, on the plan of apparent stones that defines the terrace, we located the SPA and other technical areas.