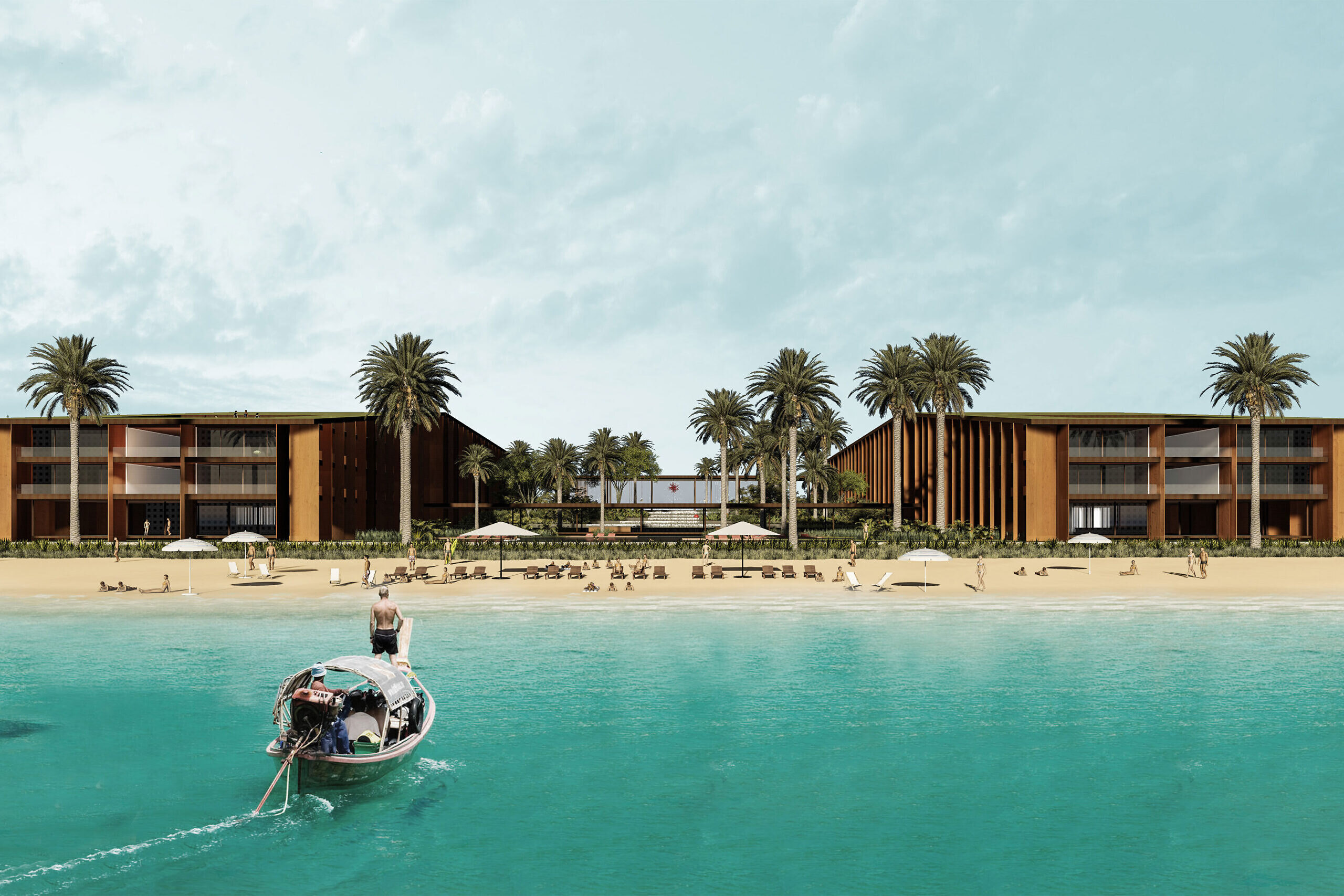 Cabo Verde Resort
Ilha do Sal
Facts
Total Area

35.088 m²
Built Area

26.447 m²
Start

2016
Project
Office

Jacobsen Arquitetura
Office's Team

Paulo Jacobsen, Bernardo Jacobsen, Edgar Murata, Marcelo Vessoni, Maya Leal de Nobrega, Marina Budib, Guilherme Pucci, Eduardo Aparício, Thauan Miquelin, Marcela Siniauskas, Pedro Ramos, Gustavo Borges
Interiors

Jacobsen Arquitetura
Interior's Team

Tatiana Kamogawa, Julia Navarro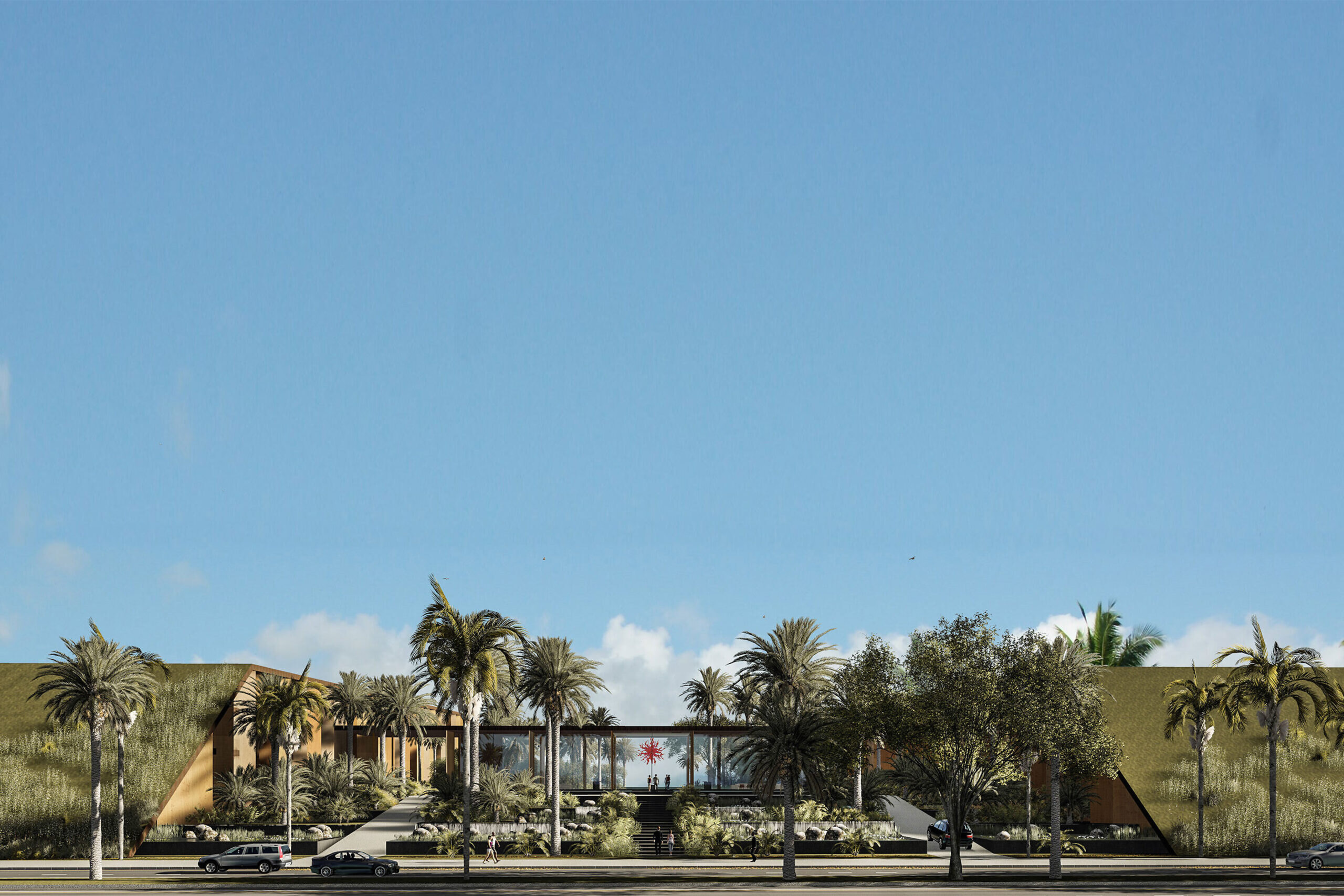 All 240 rooms will have a direct view to the sea, elevated from the ground level in a setting that shall not prioritize one unit to the detriment of any other.The reception carries a central and therefore privileged position, and its elevated perspective provides a visual impact at the Hotel's arrival moment, affording the intended ocean overview. Restaurants and Bars are also minded to establish generous beach views, whether located on the ground level, by the pool or at the top of the building. Seclusion and privateness in relation not only to it's own units, but also to the surrounding enterprises were also relevant pillars to the Architectural Concept. A 20 meters minimum setback was adopted to the side borders and a 70 meter interval in between buildings creates a slightly uneven central garden which directs ones sights to the sea.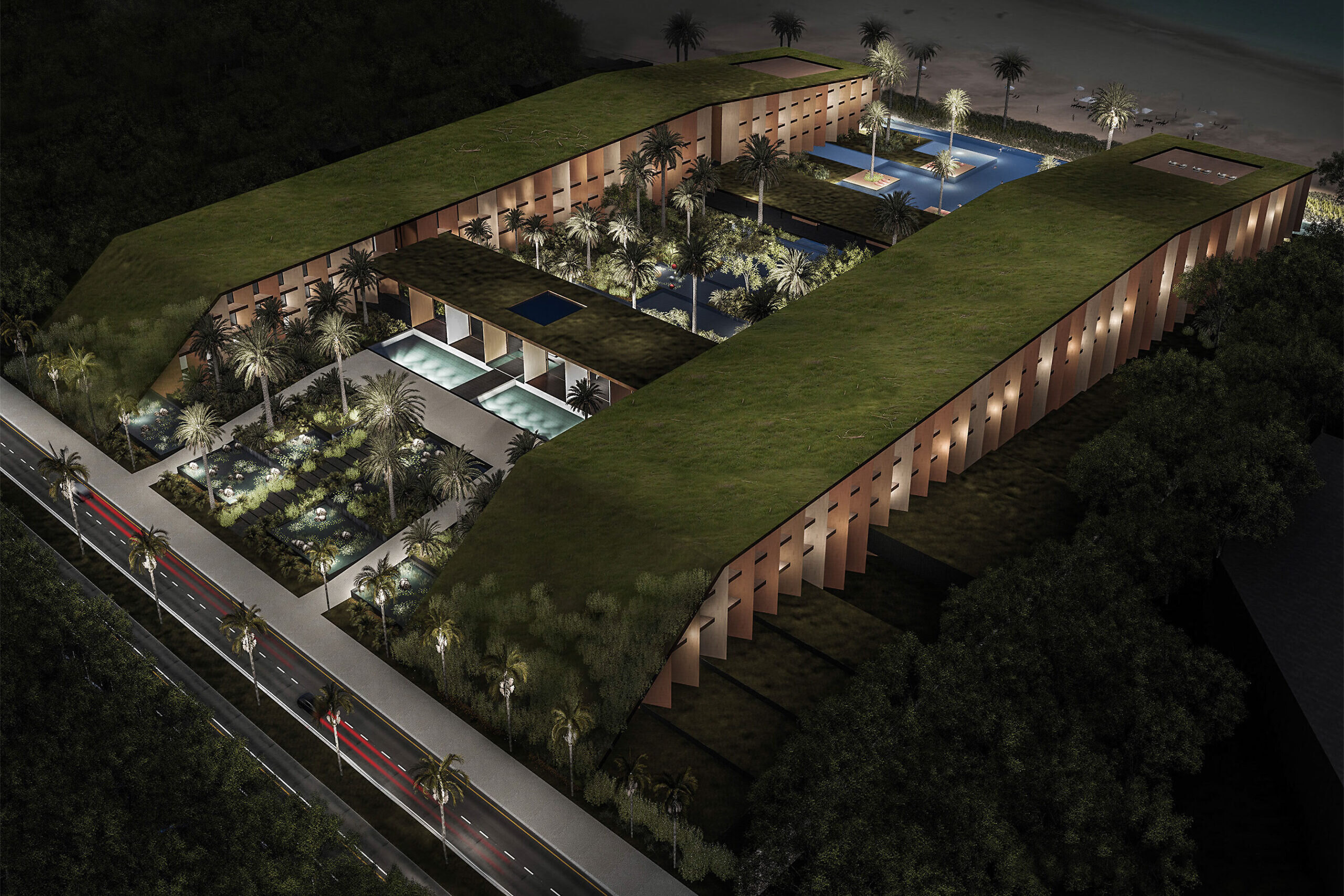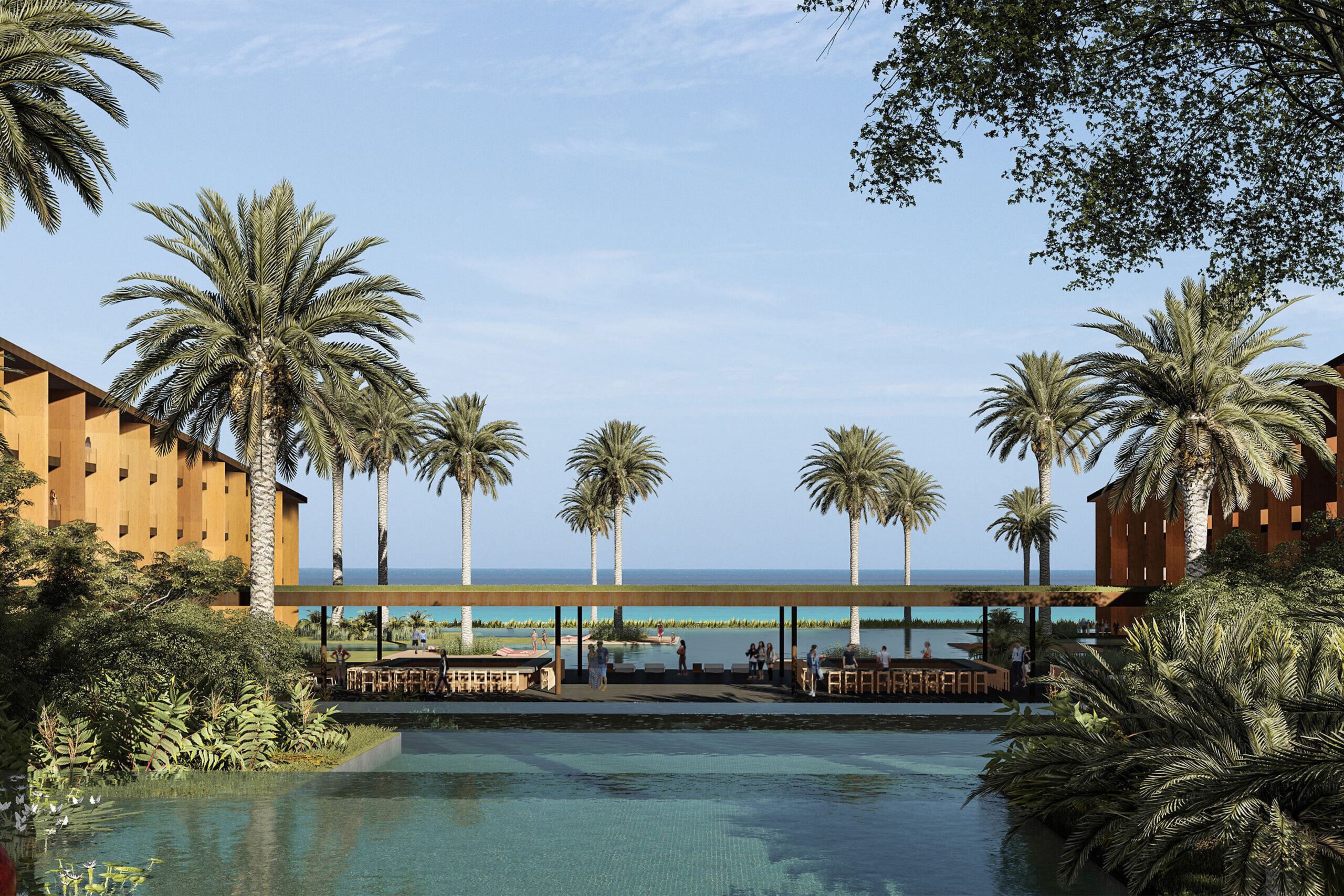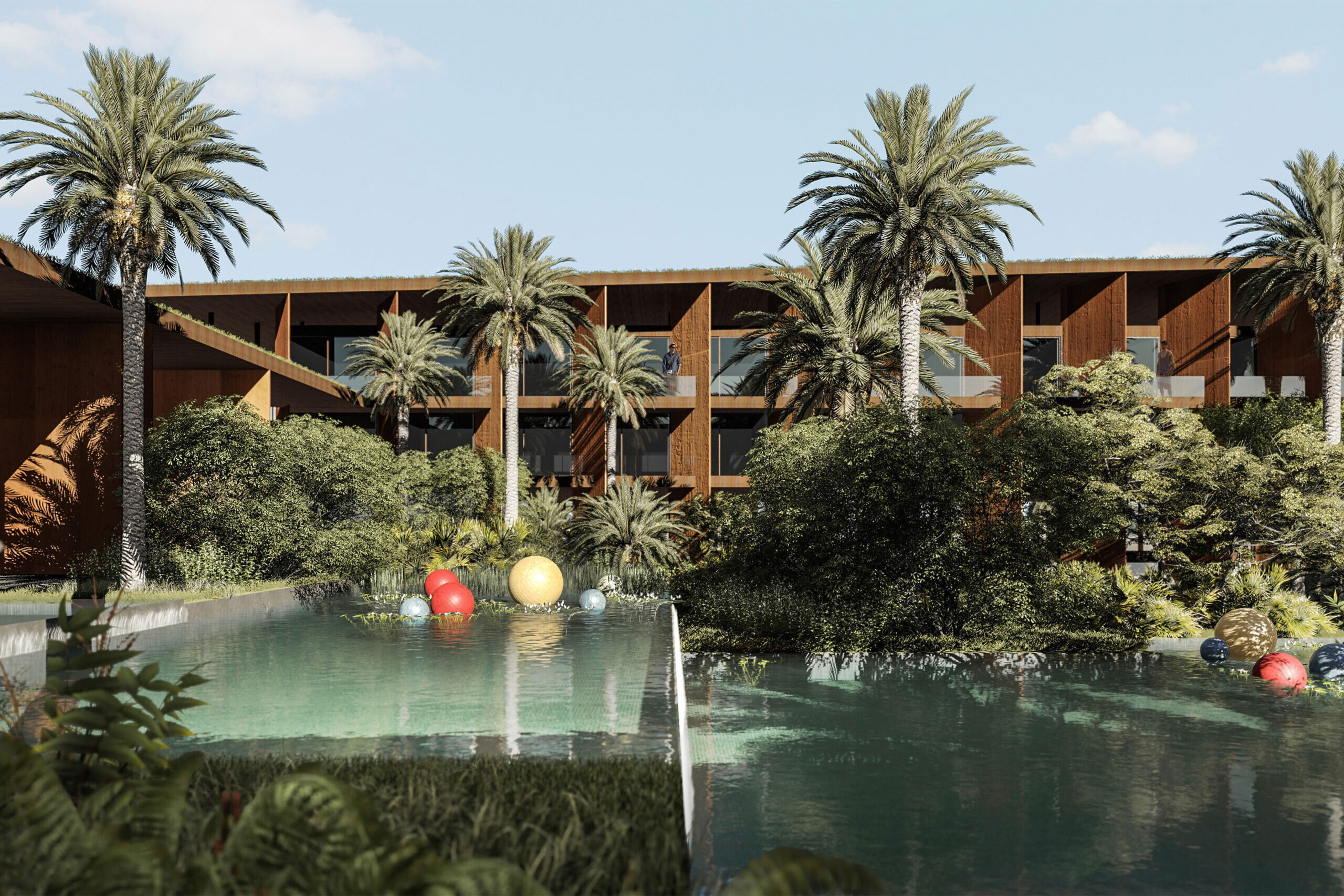 Considering the circulation flow of both guests and employees, we have adopted a simplified and yet functional system, having in mind mainly social space's clear disposition and service circulation's efficiency, including room services and access to the common areas such as restaurants and bar.
All rooms were located on elevated levels, those divided into two parallel blocks. Social spaces (front of house) configure the ground floor, establishing a relation with the pool and garden areas. Functional and service quarters (back of house) belong to the lower floor. Vertical connections take place in four different spots distributed equally in reference to the buildings footprint. In each one we count with social stairways, elevators, escape and service routes.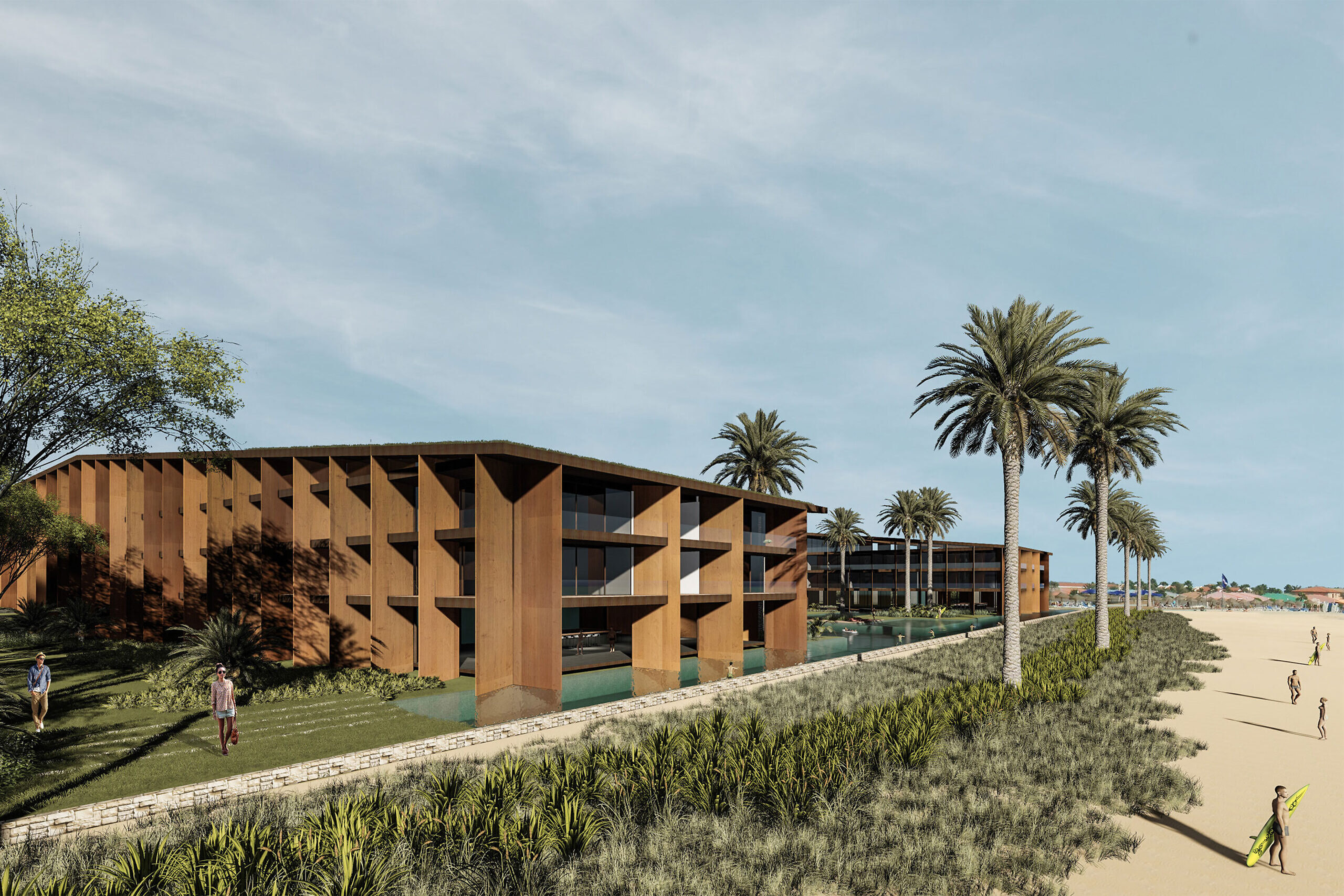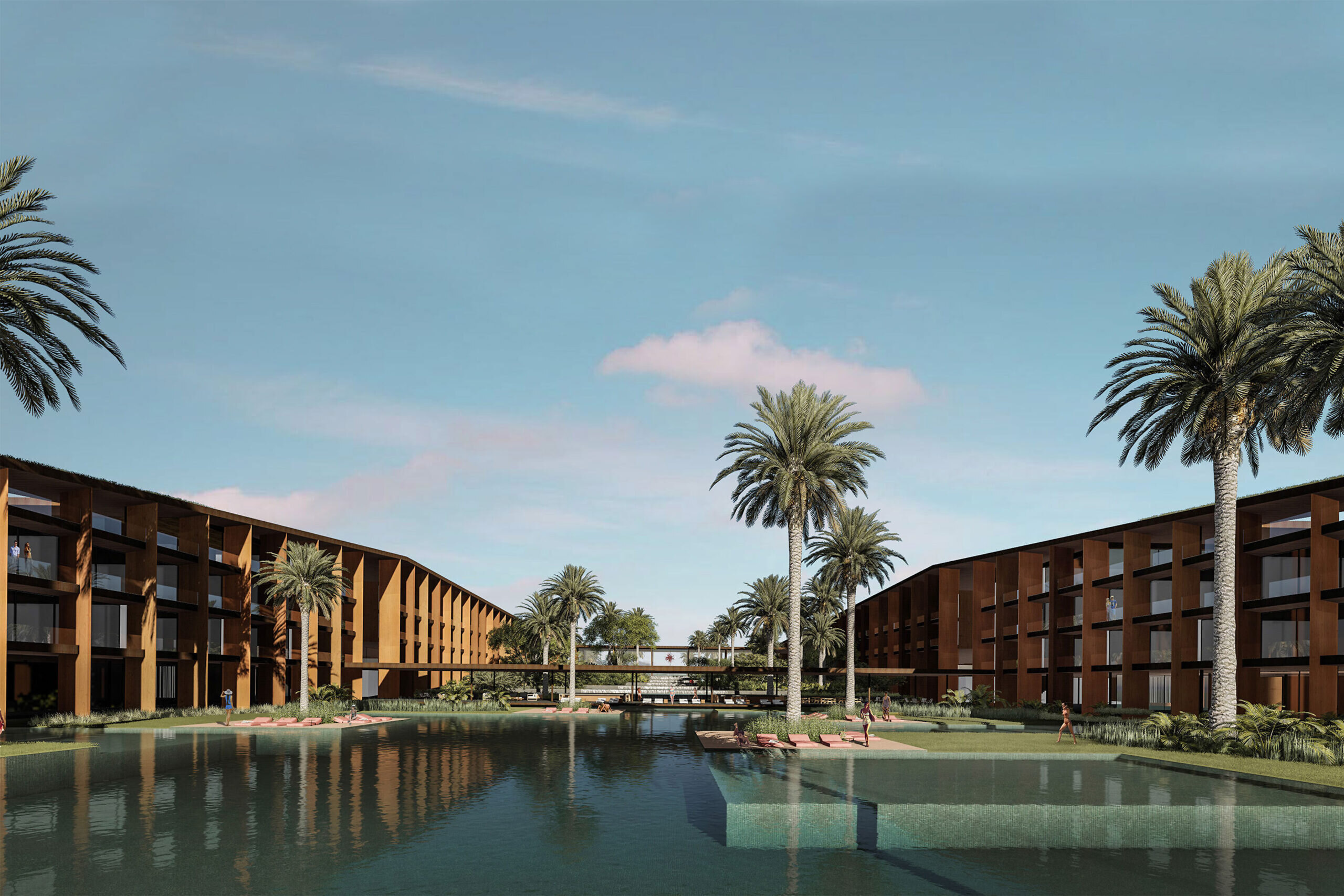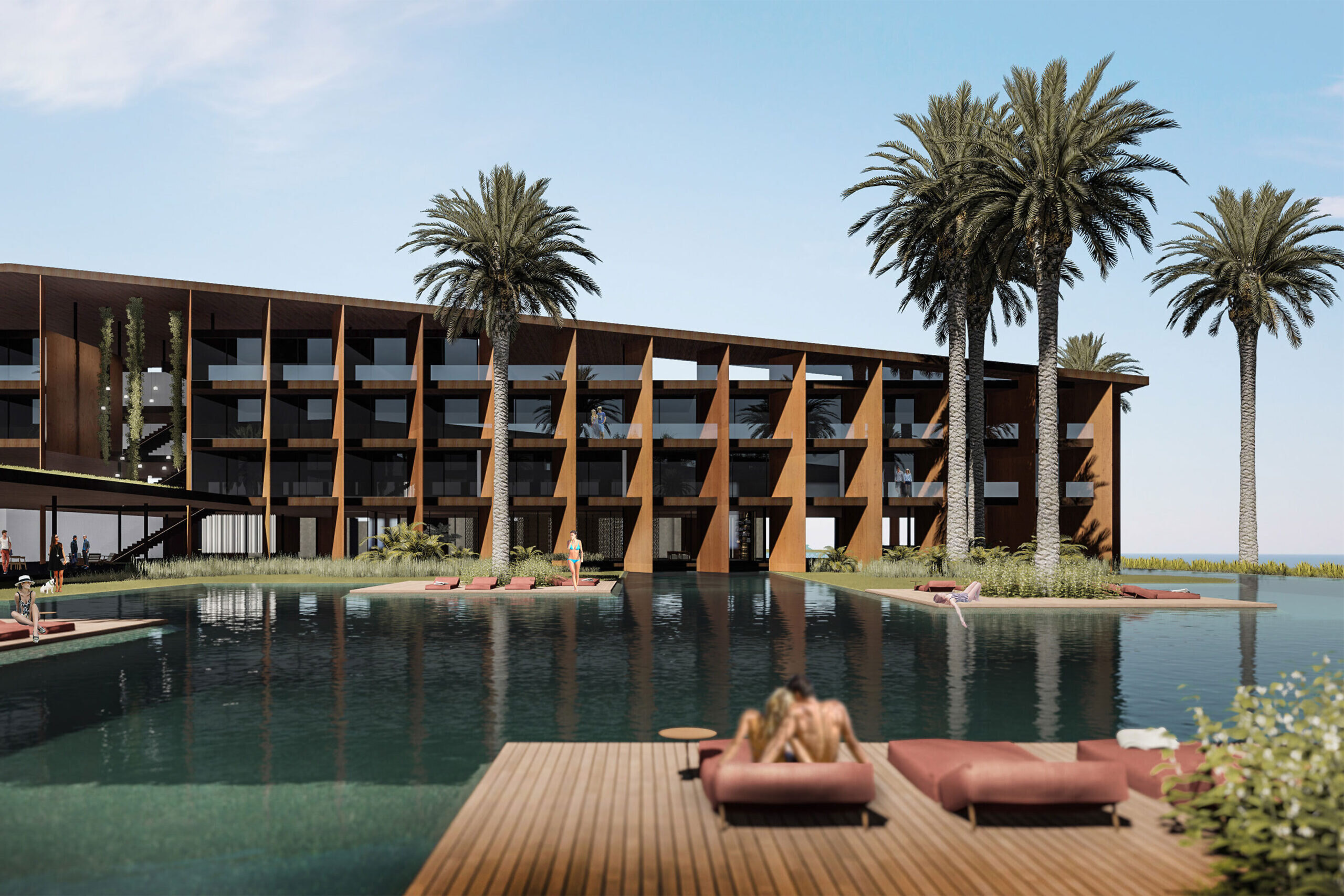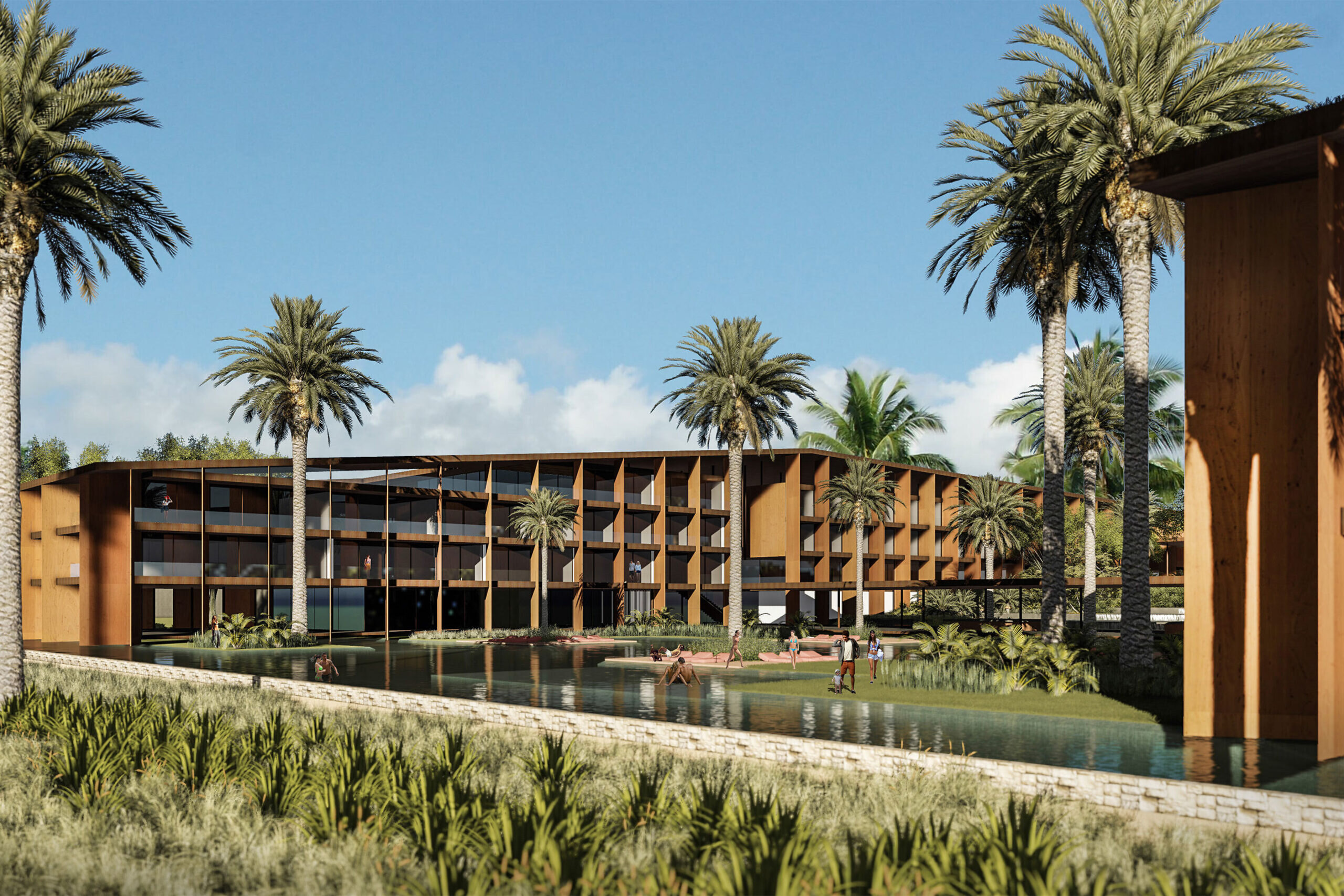 In despite of it's contemporary aspect and complex volume, the design is based on a modular and regular structural system, allowing the construction to therefore make use of reinforced concrete fabricated on site as well as the local labor employment.
Ground floor was conceived elevated from the site's natural profile, not only diminishing excavations and underground construction, but also allowing the lower floor to benefit from natural lighting and ventilation. The facades will be composed of huge industrial panels supposed to work both as partition elements in between rooms and solar protection elements, whilst framing the privileged ocean's view.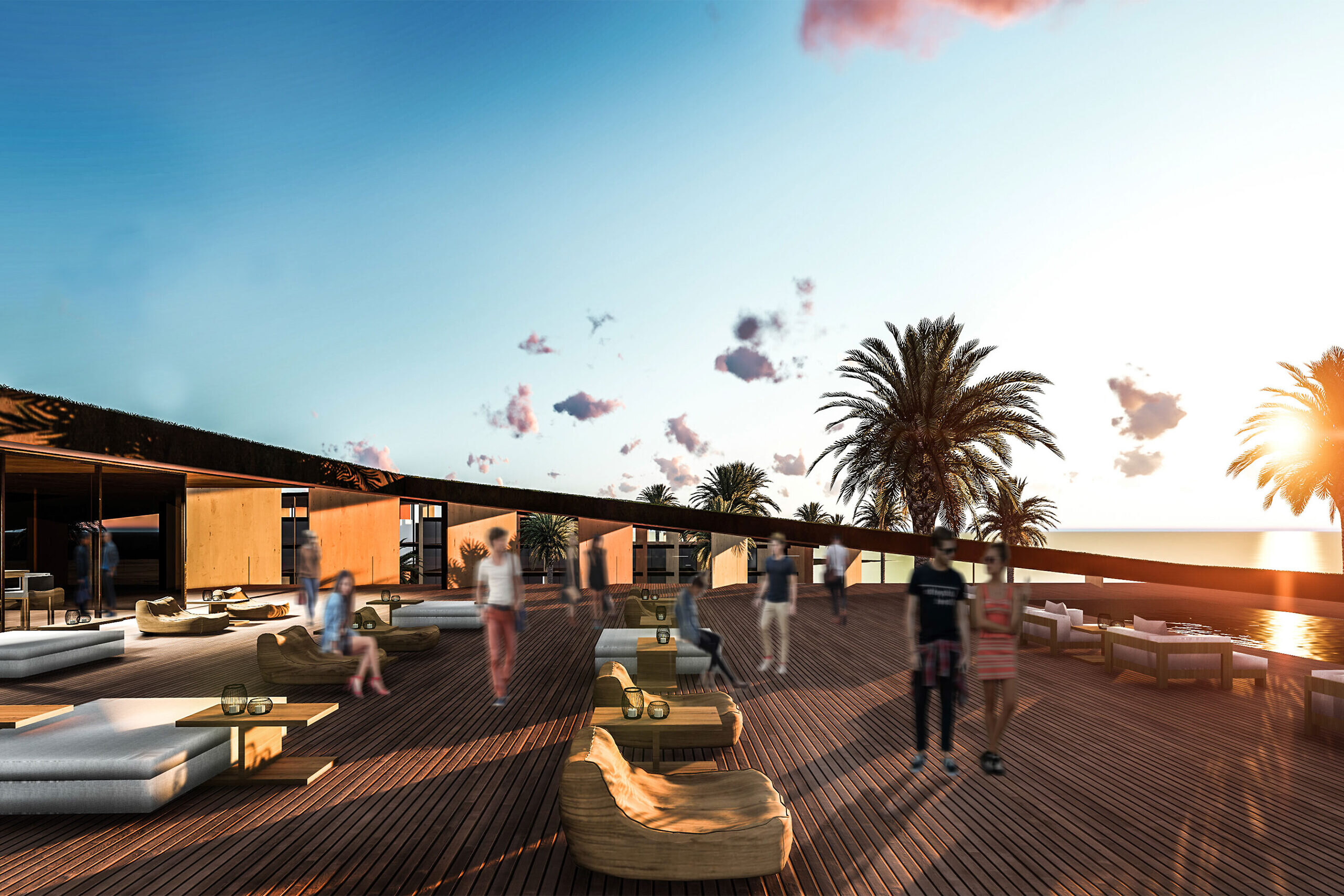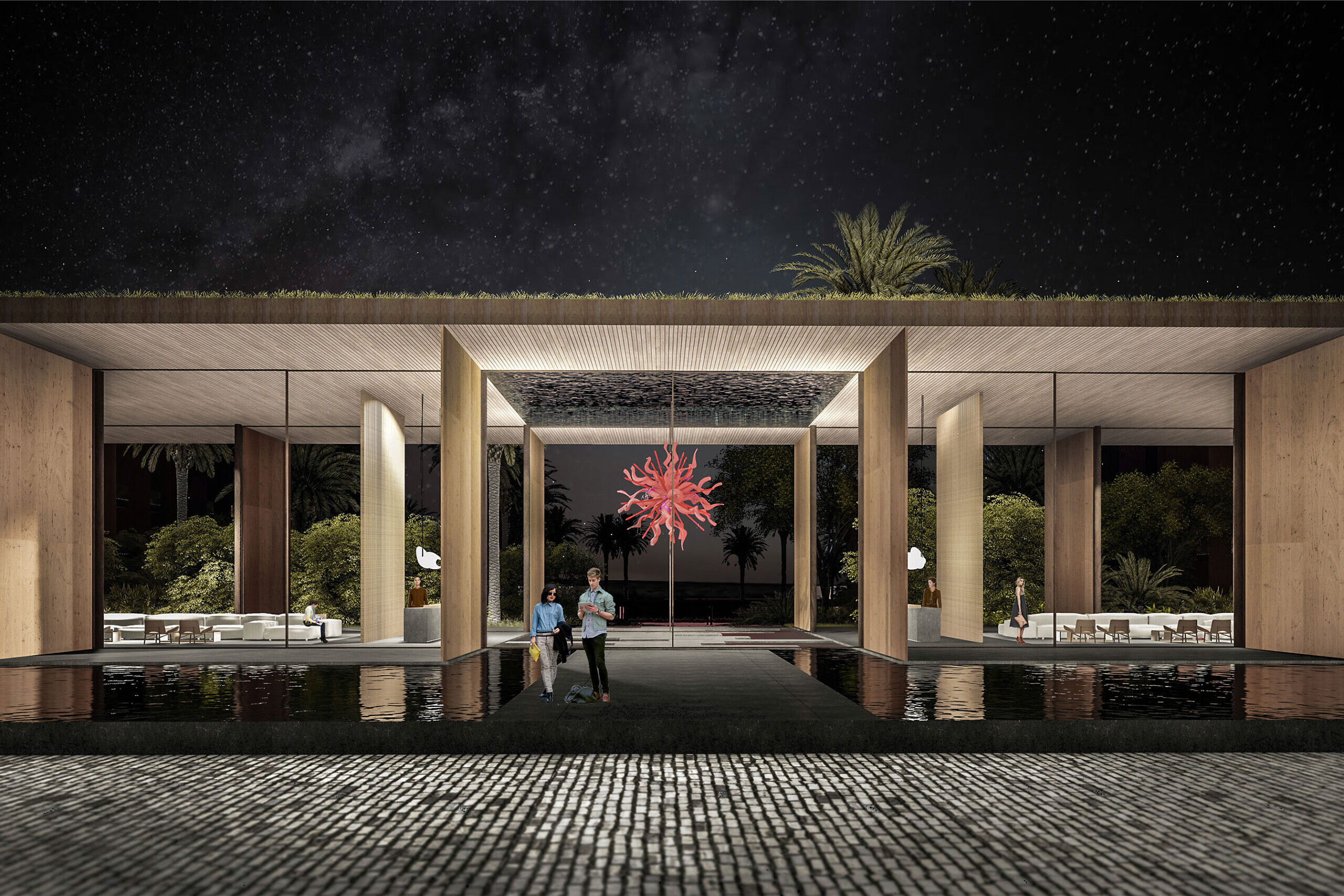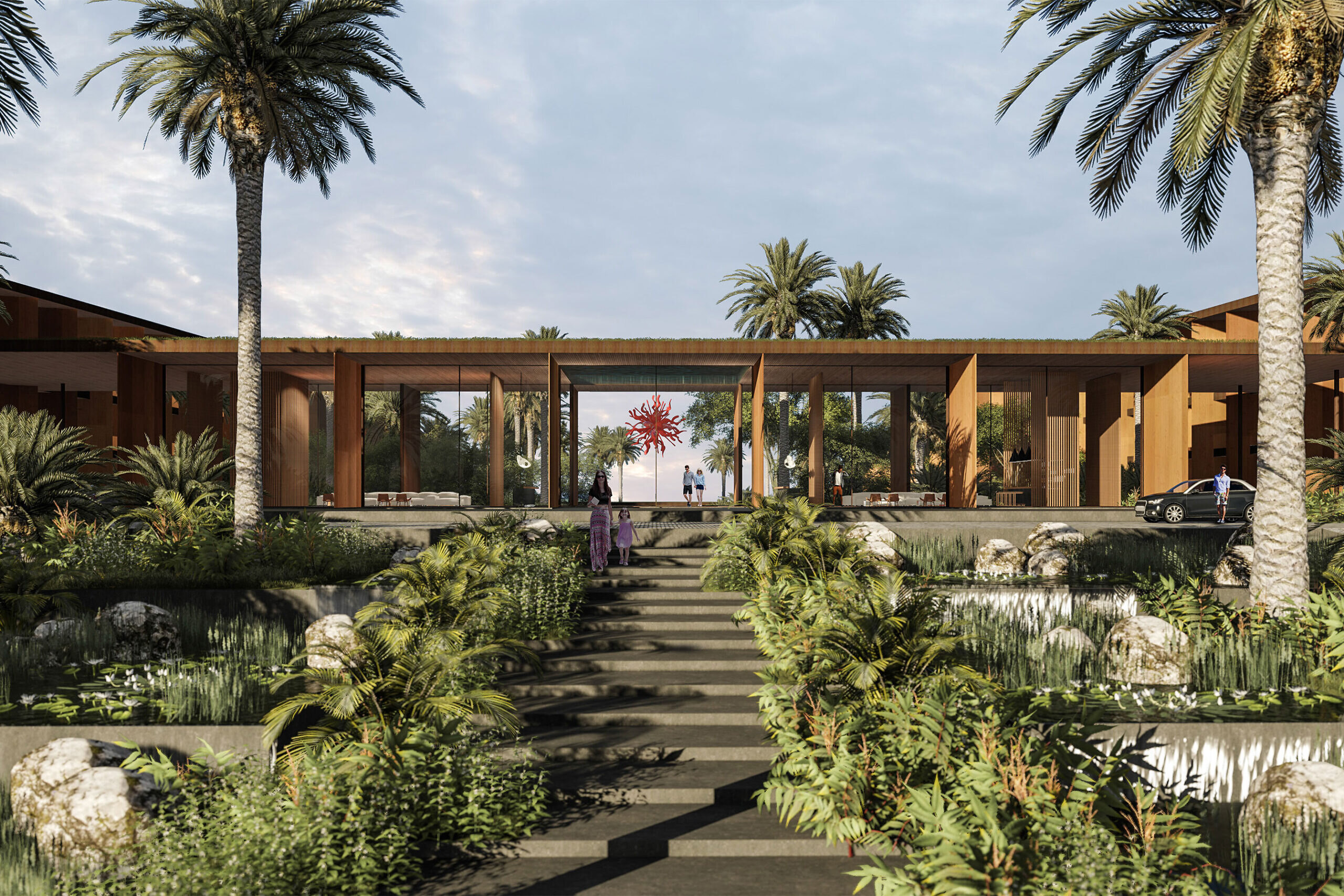 We searched to grant monumentality and symbolism to the design through a topographical architecture that harmoniously
dialogues with Ilha do Sal's original terrain, praising it's landscape mountains. Still associating the venue's natural beauty, the garden is intended in a fashion to reproduce a genuine oasis, with it's delicate unevenness plateaus, waterfalls, water mirrors and abundant mainly tropical foliage.
Facades shall carry a varied pallet of wooden shades in addition to vertical gardens facing the access street. Our architectural proposal aims to uniquely dissociate itself from the surrounding buildings, giving up an inherent and tectonic architectural aspect to embody a nature balanced, camouflaged character as it sits on the sites magnificent landscape.